Grand Daddy Purple
One of the most well-liked indica strains on the west coast and possibly the most well-known "purple" cannabis strain in North America is Granddaddy Purple (also known as Grand Daddy Purps).
Purple Urkle and Big Bud were bred together in 2003 by San Francisco Bay Area cannabis grower Ken Estes and his colleagues in an effort to produce the best indica hybrid.
Granddaddy Purple, the offspring of these two, is an exact replica of its parents' two best characteristics: the dense, enlarged buds of Big Bud and the deep, dark purple colour of Purple Urkle.
The frosted white trichomes and vivid orange hairs that lavishly cover the bud make it an attractive combination of the dark purple buds.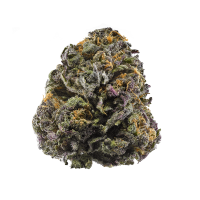 Granddaddy Purple is one of the most sought-after indica strains from San Francisco to Los Angeles…this superstar strain is even head lining across Canada Land now because of its Hollywood appearance and traditional indica characteristics.
Despite its popularity, many cultivators and those involved in the cannabis industry contend that Grand Daddy Purps is nearly identical to Grape Ape, another well-known purple strain.
Effects of Grand Daddy Purple
Grand Daddy Purple, which is ideal for nighttime use, initially hits the body and mind but quickly fades into a nice body buzz like most powerful indicas do.
It induces the typical indica couch-lock feeling and may even exacerbate bodily numbness. It is quite calming and ideal for winding down after a long day.
Medical Use of Grand Daddy Purple
Granddaddy Purps is the best strain of medical marijuana for treating pain in patients.
Additionally, it is said to be beneficial in treating anxiety, depression, and sleeplessness.
However, novice users should exercise caution, as this strain has a potent high. Starting with one or two hits and waiting a few minutes before choosing to take more is what we'd advise.
Link us up on Facebook- Comment, Share, Plus Stay up to date with our contests and giveaways.