Check out these Joint Filters, Pre-Rolled for All of You that Smoke Joints
We are pretty stoked to let you all know, you can officially pop by our spot on the reserve, at My Grasshopper Dispensary and pick up a pack of filter tips for your joint rolling adventures.
RAW Pre-Rolled Tips / Joint Filters
Our friends over at Raw are pretty proud of our their creation, RAW Pre-Rolled Tips, we think they are pretty nifty too.  They were created in response to a friend's request so they would roll up more quickly and be easier for patients to hold and roll up.
We've all experienced the annoying uncoiling tip.  No-Thank-You.  Next!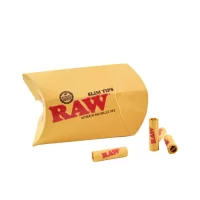 For the first few years, all RAW Pre-Rolled Tips were rolled by hand.  That is until the trend caught on, and we all realized- this invention was GENIUS- demand skyrocketed, a machine was designed to pre-roll the tips for us…
and the rest is history 🙂
New and Improved
RAW's new slim tip is 30% skinnier than a normal tip. Cause some people like to roll them skinny – we don't all smoke blunts!
We're here to bring you what you want  and need.  After all, we work for you !  We Sincerely hope you enjoy every puff! 
POP 'em in.  Lets BLAZE.
Raw Slim Tip Joint Filters Pre Rolled for Pre Rolls 😉
21 Pre-Rolled Slim Tips per pack