We Heard You Smoke Jays…
We got you covered at My-Grasshopper Dispensary, come into the shop and peep our joint paper collection..
OR
Find your way around our rolling papers right here on the website.
Rolling Papers by Raw Natural, Organic.
These sheets are the perfect thing for all the RAW fanatics who already enjoy the organic hemp rolling paper.  You guys know which ones we're talking about, the product that made RAW a major force in the business of rolling paper. 
These bad boys can hold a whole lotta bud too, up to 5 grams.  Chea !
RAW's Organic Hemp Paper is most definitely the world's sickest organic hemp rolling paper!  The original size of the first papers were 1 and 1/4, we like that size as well so we decided to make ours the same. 
Origin of Raw's Organic Rolling Papers
1 and ¼ is sometimes called Spanish Size as the first rolling papers ever produced were made in the Benimarfull region of Spain.  today we produce this paper just steps away from the same region.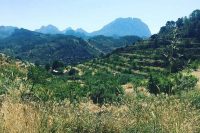 If you've ever wanted to choose your own size of RAW organic, then these rolls are for you!   
1 1/4″ Size
32 leaves / Booklet

 

Holds up to 5 grams