Sour Cookies Origin
Girl Scout Cookies and Sour Diesel were crossed to create the sativa marijuana strain known as Sour Cookies.  Boost Your Brain and Leaden Your Limbs with Sour Cookies
It's usually a risky move to combine two infamous strains, but in the case of Girl Scout Cookies x Sour Diesel Fem, the gamble paid off.
The High from Girl Scout Cookies x Sour Diesel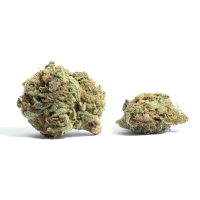 This strain is the epitome of adaptability, able to energise and elevating mood in just a few tokes thanks to her Sativa dominance.
If this strain were a person, she would be chatty, giggly, and flirtatious to the max, yet you can profit from introducing her to social gatherings to create a welcoming environment and encourage conversation.
Small doses of sour cookies smoking produce an energising, intellectual high. It is the perfect social event.  Sour Cookies will likely leave you permanently couch-locked for up to an hour when smoked in big doses.
Whiff & Puff Characteristics
The cookie flavour of this strain is noticeably missing despite being a hybrid blend with Girl Scout Cookies in her bloodline; in fact, there is more dough than cookie here.  The aroma of Sour Cookies is doughy and strong, with hints of hash and petrol.
That doesn't mean she isn't tasty, though; when split apart, these blossoms will exude a sweet, earthy perfume with a tinge of chemical fuel that is comparable to the sour flavour.
As she burns, Sour Cookies' aroma becomes even more overpowering, emitting a potent hash-like scent with nutty and pine overtones in her thick, sour smoke.
Sour Cookies: Girl Scout Cookies x Sour Diesel Medicinal Benefits
By combining two strains with high medical efficacy, it's no surprise that the medicinal benefits of this beauty are so damn popular. Capable of reducing stress levels, anxiety, depression, nausea and chronic pain, this strain is beneficial all round.
Peep our Sungrown Bud Gang Here
Follow us on Facebook to stay up to date on Contests, Deals and More!