Hash Plant is a cannabis hybrid strain that leans heavily toward Indica.
Origin of Hash Plant Strain
This strain has a brief history, having originated in Holland in the 1980s and then moving swiftly to the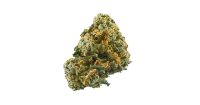 Northwest of the United States.  It is said to be a hybrid between the original Hash Plant strain and Northern Lights #1.
Although it was hard to locate outside of the Cannabis Castle breeding programme, hash plant was a known foundation for many Sensi Seeds strains over the years. Sensi Seed Bank later brought it to the market in 1999.
Whiff, Taste & Puff
The aroma of the Hash Plant nuggets is earthy, woodsy, with a whiff of hash and a touch of sweetness thrown in for good measure.  Despite being extremely unique, the smell is not overpowering (or offensive to non-users). The amazingly delicious hot flavour gives way to a rapid and potent body stone.
The High..
Deep relaxation and even couch locking or sleepiness are common side effects of the Hash Plant Strain.  It is a fantastic option for treating insomnia because of this.  Great smoke for weekends when you have nothing to do and just want to lie down for hours.
Medicinal Uses
Both Crohn's disease and gastrointestinal disorders are treated with hash plant. As a crucial migraine preventative at their onset, the pain-fighting actions are effective in the treatment of migraines.
It can also be used by those who are anxious to reduce symptoms and unwind. Additionally, persons who suffer from Attention Deficit Disorder (ADD) and Attention Deficit Hyperactivity Disorder may benefit from it (ADHD).
This is mainly recommended for use at night or on leisurely, pleasant days when there are no obligations to complete.
Qualities
Simply said, the dense buds are covered in resin, which dries into a delectable crispiness. The leaves of the nuggets are dark to medium green, and they have deep red hairs. 
Click Here to View all Members of the Sungrown Bud Club
Follow us on Facebook- Click Here !  Stay Tuned on Deals, Freebies, Price Drops and More!