OG Kush
Also referred to as "Premium OG Kush" or just "Kush," was developed in Florida approximately 30 years ago.
Although the exact genetic ancestry of OG Kush is unknown, experts think it was created through the crossing of unidentified Northern Californian strains with Chemdawg, Hindu Kush, and Lemon Thai.
The incredible fame of the strain—OG Kush is the most well-known and frequently used variety of medical marijuana—is probably the cause of the secrecy.
It's no surprise that the strain is popular all over the world given its virtually balanced makeup (55% Sativa, 45% Indica) and somewhat high THC levels.
My Grasshopper is proud to have OG KUSH as a member of our Mary Jane Gang.  Grab some ol' faithful right here online or come check us out at the dispenasry.
Click for My Grasshopper Weed Shop Location.
Qualities
The term "OG" originated with this strain and has since been used to describe numerous other cannabis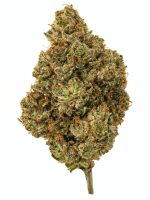 strains. Others relate different tales, but some people think "OG" pays homage to an even older strain called "Original Gangster."
The plant itself is tough and resinous, with hefty buds that are dark green and resemble grapes. Its pistils are very long, slender, and orange in colour.
Its trichomes resemble white gold; they are small, dazzling, and resin-coated. OG Kush blooms in 8 to 9 weeks and yields 17 ounce of weed per square metre of indoor growing space. The strain also thrives outside.
Whiff and Puff
OG Kush's primary terpenes are Beta-Myrcene and Beta-Caryophyllene, which give the strain its overwhelmingly earthy, spicy palette. Sour citrus and woody flavors peek in on the exhale, with hints of pine and other dank Kush flavors.
The High
You have a feeling of rushing sociability, chattiness, appetite, and the giggles as soon as the high begins. You'll be chowing down all the time, looking for someone to chat with, and feeling supremely relaxed.
The most well-known cannabis variety available will give you the most conventional high.
The drug is frequently used in social settings, to kick-start a sluggish appetite, to calm down from a mood swing, to lift a depressive episode, or to ease a taxing headache.
We advise using this variety in the afternoon on days when you want to do nothing and as a group with friends (and plenty of snacks).
Being the most well-known cannabis cultivator is no accident. OG Even in the face of today's tougher competition, Kush owns its name.
Peep our Collection of Sungrown buds -Click Here !
Join us on Facebook to stay tuned for updates, contests, deals and more!