A little bit about the Tuna Kush Strain
Once you've experienced this bud's effects, you'll see why people put up with her smell and flavor. Described as one of the best indica highs around, this bud washes over users with dreamy introspection that's euphoric and relaxing.
In Canada, this weed is reportedly something of a legend, and the United States is only now getting its hands on this incredibly pungent strain.
It's surprising that the world knows even as much knowledge about this strain as they do—breeders, genetics, and all that.
Keep in mind that this flower is highly odd and can cause you to reevaluate how you now view cannabis before we continue.
Qualities of Tuna Strain
Tuna Kush initially appears to be a typical strain because of its average THC potency level of 17%. Wait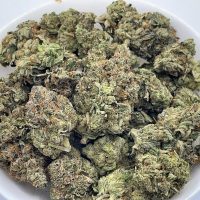 until you get closer. Her blossoms are quite lovely, with a mint green hue highlighted by golden hairs and transparent crystals.
After burning, the aroma of decomposing tuna will quickly fill the air, and this flavour will also include sour skunk undertones. We sincerely question why anyone would subject themselves to such suffering, but who are we to talk?
Tuna Strain Effects
You'll understand why folks put up with Tuna Kush once you've felt her affects. One of the best indica highs
available, this flower fills consumers with a hazy, blissful reflection.
Your body will begin to warm from head to toe shortly after you start to feel your mind slip away. No matter how tough you think you are, you'll wind up "in da couch" with a smile on your face and just enough energy to talk to the friend next to you.
Peep our other Sungrown Bud Strains -Click Here !